The Association holds their annual meeting on the Second Friday of October. Classes with graduation anniversaries at the 5 year interval are invited to participate with a special class reunion for their class.  We will post the classes holding special reunions as we are notified with contact information for each of the classes.
Classes planning special reunions may contact President Tim Carmichael (or any Board member) and make arrangements for a reserved table and a class presentation time during the evening program.
*********************
Notable Links:
*********************
Notable Information:
Haven High School Class of 1958 - 60th Reunion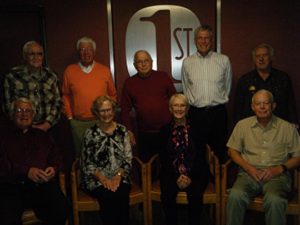 Class of  1968 - 50th reunion, contributed $200 to the HHS Alumni Association Scholarship Fund. 
We thank them for their dedication to help the students of HHS!
*********************
HHS Alumni News
2015 HHS Alumni Association Wall of Honor Recipient Steve Eck
now
2019 NJCAA Men's Basketball Coaches Association Hall of Fame
With almost 600 junior college coaching wins and two national championships to his credit, Hutchinson Community College men's basketball head coach Steve Eck has earned the highest honor in the National Junior College Athletic Association.
The NJCAA National Office announced on Monday that Eck and two others will be inducted into the 2019 NJCAA Basketball Coaches Assocation Hall of Fame.
Eck has been Hutchinson's head coach since the 2009-10 season. Over that span the Haven native has amassed a school-record 274 coaching victories and a record of 274-55. The Blue Dragons have won a pair of Jayhawk Conference championships and two Region VI titles. The Dragons have made five NJCAA Tournaments appearances, finishing the 2016 season as the national runner-up. The 2017 Blue Dragons won the NJCAA national championship, the third in school history.
Eck was named the 2017 NJCAA Division National Coach of the year.
Hutchinson is Eck's fourth junior college head coaching position.
Eck came to Hutchinson after a highly successful two-year run at Cowley College, where he produced a 60-8 overall record, one outright Jayhawk East championship, one shared East title and two berths in the Region VI championship game.
After a successful 10-year run at Wichita South High School where he won six Class 6A state championships, Eck entered the college coaching ranks at Butler County Community College in 1996. Eck went 80-22 in three seasons with the Grizzlies, going to the Region VI championship game twice.
After one season as an assistant at UMKC, Eck went to Redlands Community College in El Reno, Oklahoma
In his first season at Redlands, Eck's team won the NJCAA Division II national championship, going 30-5. One year later, Redlands moved up to Division I. The 2003 Redlands team went 32-3 and qualified for the NJCAA Tournament. In 2004, Redlands advanced all the way to the NJCAA Tournament championship game, losing to powerful Southeastern Iowa in the title game.
Overall in 21 junior college seasons Eck has a junior college record of 596-105 as of the day of the NJCAA's announcement.
Eck's Records – School By School
Butler County Community College (3 seasons)            80-22
Redlands Community College (6 seasons)                     182-22
Cowley College (2 seasons)                                                       60-8
Hutchinson Community College                                         274-55
Junior College Record                                                              596-105