Haven High School has served the community and area for over 100 years.
The graduates from Haven have achieved success in business and personal accomplishments.
The days spent at Haven High School are remembered for a lifetime.
The Haven High School Alumni Association was established to provide the linkage from the days as a student to the present.
We also provide scholarships to deserving Seniors to help them can continue their education.
This site provides information on the history, class reunions, annual meetings, and how you can join us.
Our last annual meeting and reunion event on October 12, 2018, was a success with over a hundred and sixty people attending our evening dinner.
Start planning now for the next celebration on October 11, 2019.
---
NEWS RELEASE
HHS ALUMNI ASSOCIATION SELECTS
THREE INDUCTEES FOR THE WALL OF HONOR
The Haven High School Alumni Association has selected three Haven High graduates, Andy Dirks, Beth Coleman and Lyle Koontz, for induction into the Alumni Association Wall of Honor for 2019. The induction ceremony will be held on October 11, 2019 at the High School as part of the program for the Association's annual meeting. "This class of inductees represents unique and unusual accomplishments in education, professional sports and business" stated Lynn Thalmann, Chairman of the Wall of Honor Committee.
Andy Dirks (Class of 2004) lettered four years in baseball, football and basketball at Haven. He was an all-state baseball player in 2002, 2003 and 2004 and Hutchinson News Male Athlete of the Year in 2004. At Wichita State, Andy was an All American in 2008. He was drafted by the Detroit Tigers in 2008. In 2010, Dirks received the Detroit Tigers minor league player of the year award. Andy was called up to the Detroit Tigers for the first time on May 13, 2011. In 2013, Andy was named an American League Gold Glove finalist for left fielders joining Alex Gordon, Kansas City Royals (Winner) and Yoenis Cespedes, Oakland Athletics. In the spring of 2014, Andy Dirks was considered to be the Detroit Tiger's regular left fielder for the future. Unfortunately, he suffered a back injury and was unable to continue his baseball career beyond 2014.
Beth Coleman (Class of 1965) spent twenty-four years in teaching and coaching volleyball teams of which twenty years were spent in Haven and four years in Washington, Kansas. At Haven, her teams qualified for the state tournement eight times, placing 4th in 1974-1975 and 3rd in 1988. During her four years at Washington, her volleyball teams won the state championship on two occasions, 1971 & 1972. She was elected to the Kansas State High School Activities Association Hall of Fame in 1997 (posthumously). Her volleyball teams won 408 matches and all of her teams won 70% of their matches. Beth made presentations at many Kansas coaching clinics. She was a guest coach at the Kansas Coaching Clinic in 1989. Beth was very active in community and church activities in Haven. She served as chairperson for the Board of Trustees at the Congregational Church. She also served on the Parks and Recreation Commission for the city of Haven and organized many activities for the city of Haven. Beth was a 3rd generation Haven Teacher preceded by her grandmother, Bess Laughlin, and mother, Bette Harris.
Lyle Koontz (Class of 1944) was a high school state champion in track, all-state halfback in football and leading ball carrier on the undefeated 1944 team. After serving in the Navy, he spent two years on the Hutchinson Junior College football team before moving to Kansas State University where he set interception records for both a single game and season. He held the single game interception record (3 in one game) for 43 years. Lyle held the record for season interceptions (6) for 62 years until 2011. Lyle graduated from Kansas State in 1950. He worked for General Electric for 20 years as a marketing engineer. In 1971, Lyle joined Charlie Peer and Ken Nix in a newly formed company, Great Plains Industries. Today the company is a world leader in the sale of transfer pumps and meters with products sold in over 50 countries. The success of Great Plains Industries resulted in the formation of Great Plains Ventures in 1978. Great Plains Ventures was also very successful and developed a 100-acre Ventures Business Park in Wichita, now home to four subsidiaries and other companies. Lyle served as President of the National Farm Equipment Association in 1986-1987 and Treasurer from 1988-1992. He was also Chairman of the Board of International Trade Council of Mid-America and Vice Chairman of the Mid America District Export Council, Kansas City, Missouri.
The Haven High School Alumni Association annual meeting will be held at the Haven High School beginning with a reception at 4:45 pm, dinner at 5:45 pm and ending with a program following dinner in the auditorium. The meeting is open to the public. "We invite you to join us and learn more about the lives of our three Wall of Honor inductees", stated HHSAA President, Tim Carmichael. For those interested in attending, you can contact the Haven High School Alumni Association, P. O. Box 131, Haven, Kanas 67543 and request a registration form or by going to the web site at havenhighalumni.org or havenhighalumni.com.
---
Congratulations to all the Class of 2019 for their many accomplishments!!
2019 SCHOLARSHIP WINNERS
Selected by
HAVEN HIGH SCHOOL ALUMNI ASSOCIATION
Thank you to all the members of the HHSAA who generously donate to provide scholarships for Haven seniors!
HHSAA's President Tim Carmichael presented scholarships to four Haven graduates during the recent awards ceremony.
HHSAA Scholarship Chair Jean Beal presented the Dr. Sally Coberly Scholarship and the Gayle Norris Memorial Scholarship.
***
For the fifth year, HHSAA sponsored a $500 scholarship to honor a veteran of military service.  Steven Seck, 1994 graduate of Haven High, is the veteran selected for the 2019 honor.  Seck, retired SSGT, served in USMC from 1997 to 2013.
Jaden Mullins is the 2019 recipient of the Veteran's Scholarship.  Jaden plans to attend Fort Hays State to study nursing.  Jaden has actively participated in numerous service activities including leadership roles in Kansas Association of Youth and FFA.  She served as sports manager for varsity baseball and lettered as football statistician for four years.  During her high school years, Jaden earned dual college credits and received the certified nursing aide license and C.P.R certification.  She has served in many worthwhile community volunteer activities and has worked in her family business.  Jaden's dad, grandfather, great-grandfather and other family members have honorably served in the military.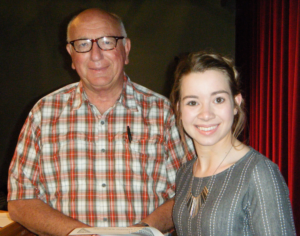 ***
Macy Hoskinson, Sierra Nisly, and Hayden Peirce are the recipients of $500 scholarships provided by the Haven High School Alumni Association's membership.
---
Macy Hoskinson plans to study agriculture education and attend Hutchinson Community College and Kansas State University. She has served the Haven FFA Chapter as an officer for two years and was on the volleyball and softball teams for three years. Macy was a band member for two years. During her junior year, Macy was inducted into the National Honor Society.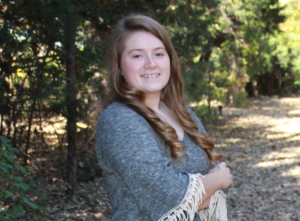 -
Hayden Peirce plans to attend Colorado School of Mines or Kansas State University to study mechanical engineering.  Hayden's achievements include 4.0 GPA, National Honors Society, vice-president of student council, KAY-Club, FFA honors for land judging and agronomy, Life Smarts Nationally Qualified, Scholar's Bowl, and a church mission trip to Thailand.  In addition to the many extracurricular activities, Hayden works on his family farm.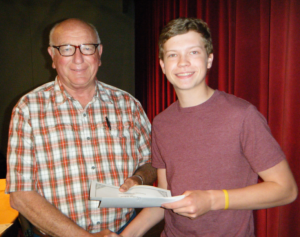 -
Sierra Nisly plans to attend Emporia State University and study elementary education.  Sierra's activities include officer in KAY-Club; band, jazz band, and Trash Cats; National Honor Society; forensics; volleyball, basketball, softball, power lifting state champion in 2018, Iron Club and Letterman's Club.  Sierra was on the honor roll all four years and was placed in the Pratt Academic Olympics Journalism News Writing competition.  She has also served the community through many volunteer activities; participated in reading to Haven elementary students for three years, and completed a mission trip to Colorado.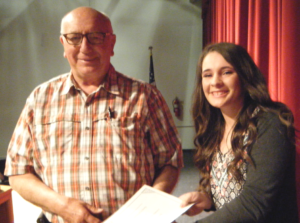 ***
GAYLE NORRIS MEMORIAL SCHOLARSHIP
Alisha Yoder is the recipient of the Gayle Norris memorial scholarship sponsored by the members of the class of 1958.  Alisha plans to attend Emporia State University and study dental hygiene.  Her high school activities include KAY-Club, class president senior year, FCA, FAA sports, debate and forensics, Wildcat Singers, Chorale, Bella Voce, All-State Choir, KMEA district honor choir, and honor roll for our years.  Alisha is active in her church and has volunteered in her community for soup kitchen, Reins of Hope, Remember Me Tree, Girl Scouts, and Little Cats Cheer camp.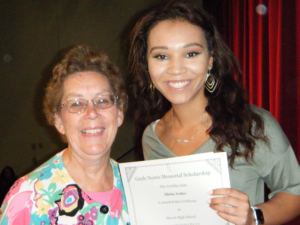 ***
JAMES BUDGE AWARDED THE 2019 Dr. Sally
Coberly Scholarship
James Budge is the recipient of the 2019 Dr. Sally Coberly Scholarship that she established in 2012.  Dr. Coberly graduated from Haven High School in 1967 and retired as the Deputy Director of the National Health Policy Forum in Washington, D.C.  The scholarship is awarded to a student who has excelled in debate, forensics, and scholar bowl competition and/or excels in composition/writing skills.
James plans to attend Fort Hayes State and study marketing and political science.  James has won awards in high school activities that include debate and forensics, band activities and drum major; class officer, student council president, Fellowship of Christian Athletes, FFA, KAY-club, Letterman's Club, Life Smarts state champion and national participant, winner of Veteran's of Foreign Wars Voice of Democracy Essay Contest, outstanding physical science student, tennis, and trap shooting competition.  He has participated in numerous church and volunteer service activities. He worked with Schwab for SOS Campaign and Estes for U.S. House Campaign.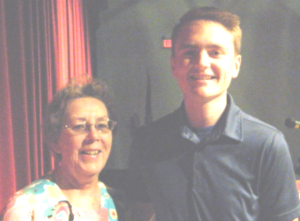 ---
HHSAA DINNER MEETING REGISTRATION FORM 2020 (when available)