Haven High School has served the community and area for over 100 years.
The graduates from Haven have achieved success in business and personal accomplishments.
The days spent at Haven High School are remembered for a lifetime.
The Haven High School Alumni Association was established to provide the linkage from the days as a student to the present.
We also provide scholarships to deserving Seniors to help them can continue their education.
This site provides information on the history, class reunions, annual meetings, and how you can join us.
Our last annual meeting and reunion event on October 12, 2018, was a success with over a hundred and sixty people attending our evening dinner.
Start planning now for the next celebration on October 11, 2019.
---
Congratulations to all the Class of 2019 for their many accomplishments!!
2019 SCHOLARSHIP WINNERS
Selected by
HAVEN HIGH SCHOOL ALUMNI ASSOCIATION
Thank you to all the members of the HHSAA who generously donate to provide scholarships for Haven seniors!
HHSAA's President Tim Carmichael presented scholarships to four Haven graduates during the recent awards ceremony.
HHSAA Scholarship Chair Jean Beal presented the Dr. Sally Coberly Scholarship and the Gayle Norris Memorial Scholarship.
***
For the fifth year, HHSAA sponsored a $500 scholarship to honor a veteran of military service.  Steven Seck, 1994 graduate of Haven High, is the veteran selected for the 2019 honor.  Seck, retired SSGT, served in USMC from 1997 to 2013.
Jaden Mullins is the 2019 recipient of the Veteran's Scholarship.  Jaden plans to attend Fort Hays State to study nursing.  Jaden has actively participated in numerous service activities including leadership roles in Kansas Association of Youth and FFA.  She served as sports manager for varsity baseball and lettered as football statistician for four years.  During her high school years, Jaden earned dual college credits and received the certified nursing aide license and C.P.R certification.  She has served in many worthwhile community volunteer activities and has worked in her family business.  Jaden's dad, grandfather, great-grandfather and other family members have honorably served in the military.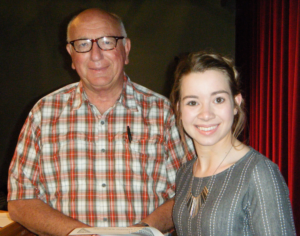 ***
Macy Hoskinson, Sierra Nisly, and Hayden Peirce are the recipients of $500 scholarships provided by the Haven High School Alumni Association's membership.
---
Macy Hoskinson plans to study agriculture education and attend Hutchinson Community College and Kansas State University. She has served the Haven FFA Chapter as an officer for two years and was on the volleyball and softball teams for three years. Macy was a band member for two years. During her junior year, Macy was inducted into the National Honor Society.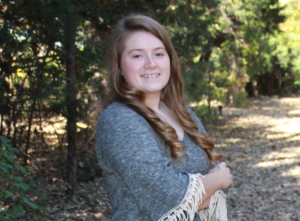 -
Hayden Peirce plans to attend Colorado School of Mines or Kansas State University to study mechanical engineering.  Hayden's achievements include 4.0 GPA, National Honors Society, vice-president of student council, KAY-Club, FFA honors for land judging and agronomy, Life Smarts Nationally Qualified, Scholar's Bowl, and a church mission trip to Thailand.  In addition to the many extracurricular activities, Hayden works on his family farm.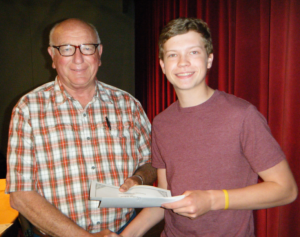 -
Sierra Nisly plans to attend Emporia State University and study elementary education.  Sierra's activities include officer in KAY-Club; band, jazz band, and Trash Cats; National Honor Society; forensics; volleyball, basketball, softball, power lifting state champion in 2018, Iron Club and Letterman's Club.  Sierra was on the honor roll all four years and was placed in the Pratt Academic Olympics Journalism News Writing competition.  She has also served the community through many volunteer activities; participated in reading to Haven elementary students for three years, and completed a mission trip to Colorado.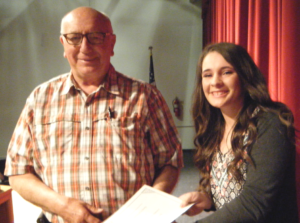 ***
GAYLE NORRIS MEMORIAL SCHOLARSHIP
Alisha Yoder is the recipient of the Gayle Norris memorial scholarship sponsored by the members of the class of 1958.  Alisha plans to attend Emporia State University and study dental hygiene.  Her high school activities include KAY-Club, class president senior year, FCA, FAA sports, debate and forensics, Wildcat Singers, Chorale, Bella Voce, All-State Choir, KMEA district honor choir, and honor roll for our years.  Alisha is active in her church and has volunteered in her community for soup kitchen, Reins of Hope, Remember Me Tree, Girl Scouts, and Little Cats Cheer camp.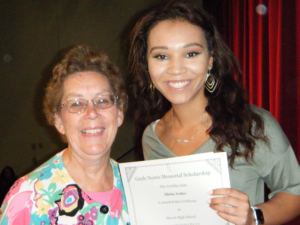 ***
JAMES BUDGE AWARDED THE 2019 Dr. Sally
Coberly Scholarship
James Budge is the recipient of the 2019 Dr. Sally Coberly Scholarship that she established in 2012.  Dr. Coberly graduated from Haven High School in 1967 and retired as the Deputy Director of the National Health Policy Forum in Washington, D.C.  The scholarship is awarded to a student who has excelled in debate, forensics, and scholar bowl competition and/or excels in composition/writing skills.
James plans to attend Fort Hayes State and study marketing and political science.  James has won awards in high school activities that include debate and forensics, band activities and drum major; class officer, student council president, Fellowship of Christian Athletes, FFA, KAY-club, Letterman's Club, Life Smarts state champion and national participant, winner of Veteran's of Foreign Wars Voice of Democracy Essay Contest, outstanding physical science student, tennis, and trap shooting competition.  He has participated in numerous church and volunteer service activities. He worked with Schwab for SOS Campaign and Estes for U.S. House Campaign.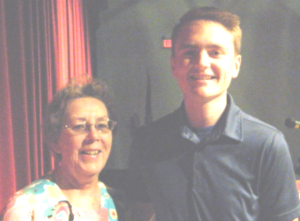 ---
Haven Fall Festival 2019 schedule (when available)